Take Advantage of the 30% Solar Investment Federal Tax Credit!
Calculate How Much Energy You Can Save
Solar Panel Installation Near You
In 2019, the U.S. became home to more than two million solar panel installations!
The U.S. installed 19.2 gigawatts of solar PV capacity in 2020 to reach 97.7 gigawatts of total installed capacity, enough to power 17.7 million American homes. Solar accounted for 43% of all new electricity-generating capacity added in the U.S. in 2020, representing solar's largest ever share of new generating capacity and ranking first among all technologies for the second year in a row. Under a business-as-usual scenario, the U.S. solar industry will install more than 324 GW of capacity over the next 10 years, quadrupling the current amount of solar capacity installed.
Whether it's cost savings you're looking for, or the environmental benefits….the Experts at Oak Electric are here to help!
Through hard work and dedication, Oak Electric is now a SunPower Master Dealer! If you are considering going solar, industry experts will tell you that teaming up with a reliable, experienced solar installer is the single most important strategy for the success of your project. We specialize in solar panel power systems and battery backup.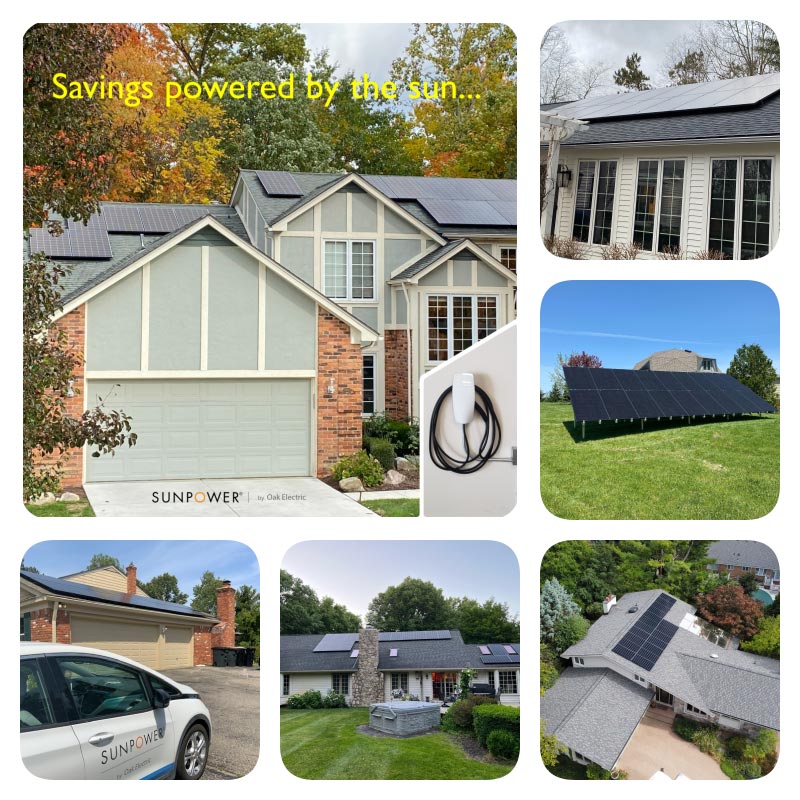 Savings Powered by the Sun
JUST EXTENDED! Take advantage of the 30% Solar Investment Federal Tax Credit
Oak Electric is one of Southeast Michigan's leading installers of solar panels and battery backup systems for residential and commercial customers. Give us a call at (800) 964-7070 or email info@oakelectric.com. We are standing by to answer all of your residential and commercial solar panel questions. We will always personally answer your phone call – you will never reach an answering service! Be sure to ask about our other services as well – electrical, automatic back-up generators, electric vehicle charging, heating, cooling, plumbing and solar…One Call Covers it all!
Oak Electric has earned the Master Dealer Status with Sunpower…we are proud to be 1 of only 35 chosen Master Dealers in the country!
Experience. Since creating our Green Division in 2008, Oak Electric Service has grown into one of Southeast Michigan's premier solar panel system installers for residential and commercial applications.
We are proud to be a NABCEP (North American Board of Certified Energy Practitioners) PV installer. This voluntary certification means we have completed the training, passed the exams and demonstrated competence in the field.
Oak Electric offers a number of convenient financing options to add to the affordability of your solar or battery backup purchase.
We will size a solar panel system that best fits your needs and budget.
Oak Electric… Delivering Energy in Every Way!
Our in-house solar experts are available to answer questions about your specific solar installation, including the availability of federal tax credits for renewable energy projects.
JUST EXTENDED! Take advantage of the 30% Solar Investment Federal Tax Credit – don't wait, call Oak today (800) 964-7070!
How SunPower Solar + Battery Storage Works
EXPANDING SOLAR POWER IN MICHIGAN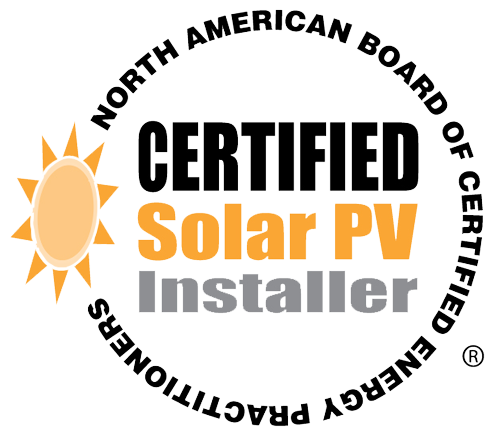 Oak Electric has completed some of the largest solar power installations in Michigan in areas including: Ann Arbor, Birmingham, Brighton, Clarkston, Commerce, Dexter, Farmington Hills, Grosse Pointe, Howell, Linden, Livonia, Novi, Ortonville, Rochester and Waterford, to name just a few.
Solar electric systems, also called photovoltaic or PV systems, are reliable and pollution-free. They make use of a renewable source of energy—the sun. While PV systems for homes and businesses are becoming more affordable all the time, a PV system can still be a substantial investment. As with any investment, careful planning will help you make the right decisions for your home or business.
It's time to have your utility pay you! Reduce your energy bill and potentially save thousands in taxes!
Experts on Solar Panels for Homes
Residential PV systems, usually roof-mounted but often ground-mounted as well, use solar panels made of silicon to convert sunlight into electricity. Since 2006, the cost to install solar panels has dropped by almost 75 percent.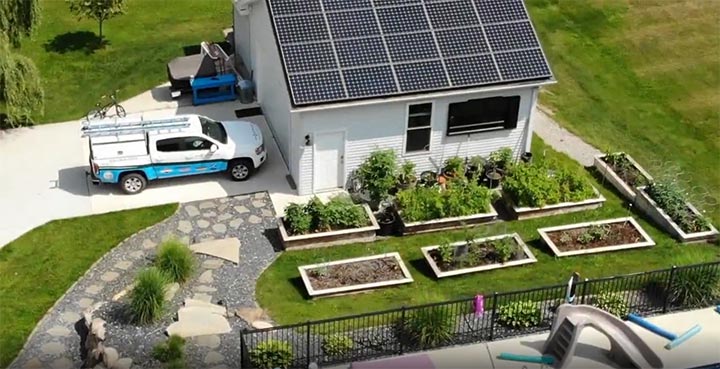 Depending on the size of the solar panel system, homeowners can save as much as 50 percent on their electric bills. In addition, studies show that solar powered homes sell 20 percent faster and for 17 percent more money than homes without solar.
When it comes to home solar power, Oak Electric does it all. We'll help you configure the best system for your home and energy requirements; properly install the system, including arranging for permits and inspection; choose from our flexible financing options; and explain available federal tax credits and energy buyback options.
Commercial Solar Power Installation in Michigan
Oak Electric has completed a number of solar installations for business, commercial and industrial customers—warehouses, schools, restaurants, parking lots and corporations—in Michigan. We have even installed a solar power system at our headquarters in Waterford so that we can collect first-hand data on the benefits and savings of renewable power systems.
Let us show you how taking your commercial operation "solar" can help you lower your energy bill and reduce operational costs, reduce pollution, lock in energy costs for the long term, enhance your energy security and increase the value of your company.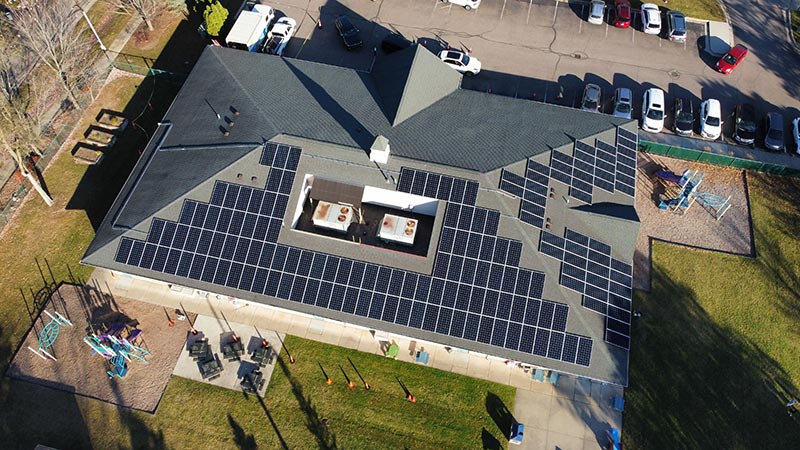 Go Solar at Your Place of Business
No matter its environmental impact, the decision to go solar as a business is almost always about saving money on long-term operating expenses.
Best Michigan Solar Panel Systems
Frequently Asked Questions
A photovoltaic (PV) solar energy system is composed of solar panels, racking for mounting the panels on the roof, electrical wiring, and an inverter. From sunrise to sunset, the solar panels generate direct current electricity (DC) which is sent to the inverter. The inverter converts the DC into alternating current (AC), the type of electricity required for household use. (SunPower also offers AC solar panels which do not require a central inverter because they feature a microinverter that's factory integrated into each panel.) The AC power is delivered directly to your home's main electrical service panel for use by you and your family.
It's important to minimize shading because solar panels operate at optimal output when their entire surface is fully exposed to direct sunlight. The system will still produce energy if it is shaded but its output will lessen.
SunPower systems are designed to have a useful life of 40 years or more.
Your current monthly energy use and the size of your system will determine your actual savings amount. And with little or no startup costs, systems can start paying for themselves immediately. Savings will vary based on several factors, including system size, performance, your household's average energy usage as well as any applicable solar credits, tax incentives, and current solar energy buyback (net metering) rates offered by your utility company.
Having a solar system typically adds value to your home.* Depending on where you live, there is often no increase in your property taxes.
SunPower has a wide variety of financing options, including some that don't require you to pay any upfront costs if you qualify. The cost of your solar system depends on several factors, including your current energy usage, your available amount of unshaded roof space, your local utility's net metering policy, and other factors.
Despite the generalities you may hear in solar advertising, not all solar systems are created equal! Of all the solar panels on the market, SunPower panels have the highest efficiency* and convert the highest amount of sunlight into electricity. This means our solar panels generate more power than conventional panels within the same amount of space, and you'll need fewer panels to produce the energy you need. You can maximize your available roof space to choose the best, unobstructed location for electricity production. SunPower's world-record panel efficiency** means you'll save more money over time by choosing SunPower panels.