Generac Backup Generators for Novi, Farmington Hills, and West Bloomfield, MI
Generators are a great tool to have in case of a power outage. Whether you have never owned a generator or you have a generator that is on its last legs, turn to the experienced professionals at Oak Electric. We provide quality generator installation for all commercial, industrial, and residential properties in Highland, MI.
Why Get a Generator?
Generators provide a lot of value to your property. Consider getting a generator because:

They work 24/7: A generator's main purpose is to power a property, even in the midst of bad weather or general power outages. That way, you have access to all your powered appliances and systems.
They protect your food: Without power, your food can spoil quickly, leading to lost dollars and hungry stomachs. With a generator, you never have to worry about this issue.
They provide internet without fail: Whether you work from home or in an office, a constant internet connection is key to business success.
Whenever your power is out, generators are here to help.
Why Choose Oak Electric?
Oak Electric is a qualified and experienced backup generator installation company. With over 6000 installations under our belt, we can provide the quality service you deserve. We always install according to the Department of Energy guidelines, and all of our installed generators are from Generac, a noted generator brand.
After we have installed a new generator, we can handle any part replacements, maintenance needs, and necessary repairs.
Additionally, we are available 24/7 for any emergencies you have. We understand the frustration that you might feel if both your power and your generator are out.
If you are ready for a quality generator you can rely on for years to come, call Oak Electric today at (800) 964-7070. We look forward to speaking with you soon about your generator needs.
Also Serving South East Michigan
Our goal (simply put) is to optimize life and help people be prepared for the unexpected.
Oak Electric…
your team of standby power experts!
We install 4-5 Backup Generators per day with 5 additional maintenance and repair technicians on staff to support your installation! Don't settle for anything less!
We stand behind our work and value your business.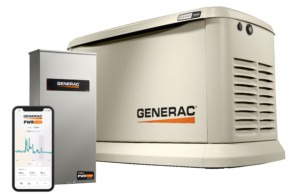 Introducing the largest air-cooled automatic backup generator in the market!
24kW Generac Generator with PWRView Transfer Switch – This includes an Energy Management System that will allow you, the consumer, to get more power AND a home energy management system.  The PWRview monitor allows you to monitor and manage your energy usage.  It is estimated (by Generac) that this will allow you to save thousands in energy costs over the life of the generator.

Why you should choose an automatic standby backup generator vs. a portable generator…
The Federal Department of Energy advises of the following risks and warnings when using portable generators during power outages:
Incorrect generator use can lead to carbon monoxide (CO) poisoning from the engine exhaust, electric shock or electrocution, and fire. Even if you can't smell exhaust fumes, you may still be exposed to CO.
Position generators outdoors and well away from any structure—Running a generator inside any enclosed or partially enclosed structure will lead to dangerous and often fatal levels of CO.
Keep the generator dry—Operate it on a dry surface under an open, canopy-like structure, and make sure your hands are dry before touching the generator. Do not use the generator in rainy or wet conditions.
There are many problems if you do not disconnect your normal source of power. Otherwise, power from your generator could be sent back to the utility company lines, creating a hazardous situation for utility workers.
Turn the generator off and let it cool before refueling. If not, it can cause fire or explosions.
Automatic Standby Generators come in several sizes, but which is right for you?
Michigan Ranks 4th Nationally for Power Outages…
"There were 192 reported power outages in Michigan in 2016, according to the Eaton Blackout Tracker Annual Report, putting Michigan ‒ which is 10th nationally in population ‒ behind only California, Texas and New York in the total reported number of outages. 
Michigan also had the fourth-most power outages cumulatively from 2011 through 2016, according to Eaton…"