Is your air conditioner 10+ years old? Is you furnace 15+ years old?
It may be time to replace…
At Oak Heating, Cooling & Plumbing, the focus is on the "big picture" when it comes to the comfort of your home or business environment. We'll help you keep all of your major systems—heating, cooling and plumbing—helping to ensure they are operating at their peak for year-round "total comfort", where you live and work.
Oak Heating, Cooling & Plumbing starts with heating and cooling products from industry leading manufacturers like Lennox to bring our customers the latest HVAC technology and highest efficiency at affordable prices. Add to that our heating, cooling and plumbing experts, whose years of experience ensure that Oak designs the right system for your home, install it properly and keep it running well for years to come.
Choose Oak – a Lennox Premier Dealer who continues to facilitate Lennox factory training to ensure you are getting the most experienced in the field.
What sets Oak's HVAC Division apart from the rest?
Oak is a Lennox Premier Dealer which allows us to offer promotions and pricing that others cannot.
Oak's team consists of multiple factory trained technicians
North American Technician Excellence (NATE Certified) NATE tests are rigorous, knowledge-based tests and validates Oak's technician's knowledge.
Oak Electric offers financing
One Call Covers it All…heating, cooling, plumbing, electrical, solar and generators…one company for your many needs!
Lennox Premier Dealers
All Lennox® Dealers are expert HVAC professionals trained to take care of any comfort issue you may have. Lennox Premier Dealers are the best of the best.
Oak Heating, Cooling & Plumbing is proud to be a Lennox Premier Dealer.
Every Lennox® product has been engineered to deliver best-in-class comfort and efficiency. And when two or more Lennox products are working together as part of a system, the results are truly outstanding. Whatever your home, lifestyle and budget, there's a Lennox system that can meet your needs.

Superior service
Every Lennox Premier Dealer is trained to deliver a level of comfort and service that exceeds customer expectations. Because Lennox Premier Dealers understand that actions speak louder than words, instead of just talking quality, they practice it through listening and responding to your comfort needs.
Highly rated for customer satisfaction
In order to earn and maintain "Premier" status, Lennox Premier Dealers must consistently meet and exceed customer expectations. To ensure they do that, they are trained to design, install, service and maintain HVAC systems, are dedicated to achieving complete customer satisfaction, and must maintain a 5-star rating among consumers.
Mini-Split System
When only certain rooms need heating and cooling, Lennox mini-split systems provide a smart, flexible solution. Maybe you have a sunroom that's a little too warm, or a room addition that isn't connected to your ductwork. A mini-split system can address comfort issues in each of these rooms, without a complicated installation.
Air-Conditioning Installation & Maintenance
"There are two main reasons to schedule annual air conditioner maintenance with your local HVAC contractor: saving money and saving money (no that isn't a typo)…" -Home Advisor
"…Early air conditioner maintenance can prevent many small problems from becoming more expensive repairs later on.." -Home Advisor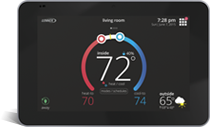 ULTIMATE COMFORT SYSTEM
Imagine living in a house where the temperature is never too hot or too cold, too humid or too dry and always clean and fresh.
As a Lennox Premier dealer, Oak Heating, Cooling & Plumbing is able to offer its' clients an advanced heating and air conditioning solution that makes such perfection possible. The Lennox® Ultimate Comfort System™ is designed to immediately and precisely adapt, anticipate and respond to your heating and cooling requirements.
AIR CONDITIONING SALES
Nothing beats the relief you experience when you step into a cool house on a sweltering summer day. More than a luxury, your home's air conditioning system not only cools down the air, it also helps control the amount of moisture and pollen you breathe.
If your existing air conditioner has seen better days and you are ready to replace it, Oak Heating, Cooling & Plumbing will help you choose the best product from the Lennox line of air conditioners.
BOILER SALES AND SERVICE
Whether you have a gas-fired or oil-fired water boiler, we'll help you choose the best model from the Lennox lineup, for quiet, even radiant heat throughout your home.
The GWM-IE Boiler—This high-efficiency gas-fired water boiler delivers up to 40% greater efficiency than conventional boilers. You use only the energy necessary to keep you comfortable.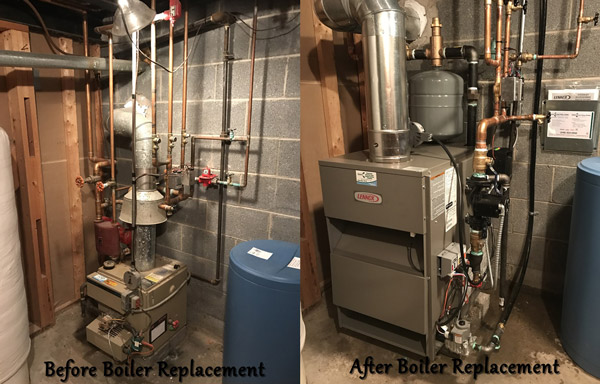 FURNACE SALES
As a Lennox dealer, Oak Heating, Cooling & Plumbing offers customers some of the finest furnaces the industry has to offer from a company that has been making furnaces since 1895.
HVAC REPAIR AND SERVICE
Whether you have newer heating and cooling systems or older models that have been serving you faithfully over the years, Oak Heating, Cooling & Plumbing helps you stay in control of the temperature, humidity and overall air quality in your home or business, regardless of the season.
Oak offers comprehensive HVAC services for most major brands of air conditioners, furnaces, boilers, heat pumps and air exchangers. Oak Electric's experienced, licensed HVAC Technicians provide everything from seasonal maintenance checks to extend the life of your systems to completing major repairs. Call (800) 964-7070
AIR QUALITY
The quality of the air you breathe in your home is just as important as having an air temperature that's just right. Oak Heating, Cooling & Plumbing offers a number of advanced Lennox products designed to help keep indoor air quality healthy and clean.
When used in conjunction with your Lennox furnace and air conditioner, these products can help ensure the air you breathe has fewer allergens and contaminants.